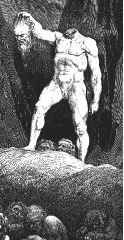 My Blogs... Click on the graphic below to go there, or scroll down and read some of my classic articles from pre-weblog times...
Psycho Dave's Commentary -- This has been my official blog for a few years, mostly on current events.

Fundamentalist Deceit Blog -- Part of my ongoing work in exposing lies, deceit, and utter bullshit from religious whack-jobs, especially those in the news.

If you are a Trekkie, a Pedophile, a Fundamentalist Christian, or just some anal retentive old poop, then you are encouraged to send HatE-MAIL to Psycho Dave so that he can verbally abuse you back.